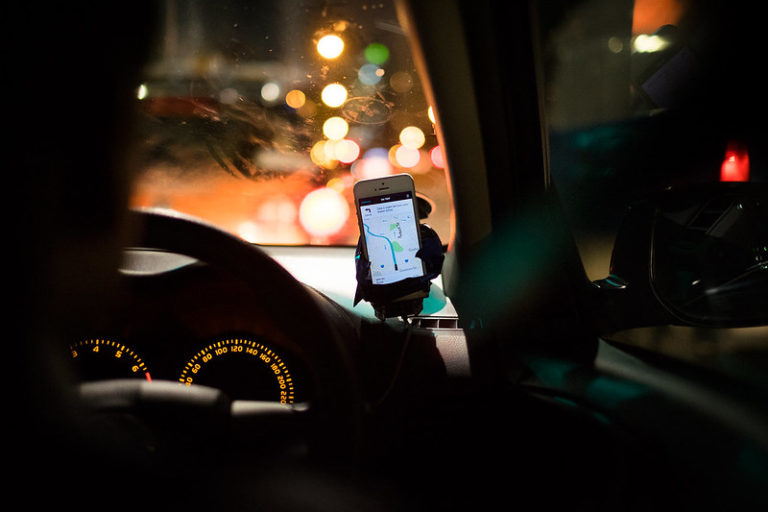 Image credit: Noel Tock
"PM Modi announces a 21-day nation-wide lockdown as COVID-19 toll touches 12" read the headlines of the Hindu newspaper on March 24th, 2020.
Offices indefinitely closed, shops shut, and gatherings banned. People pushed into their homes, unknown of what will happen next. A mask, a sanitizer, and a six-foot distance became the new normal. Drones captured images of roads that, once congested with traffic, were now empty. On the front, these empty roads portrayed a country fighting a catastrophe. But what remained unseen and unheard were the many in its backyard fighting another battle – a battle of survival. Amongst those who fought for their livelihood in a dwindling economy were India's 8 million + gig workers. Soon news emerged of these workers going on strikes and demanding relief from companies as they lost their earnings with the diminished demand during the national lockdown.
One might ask, who are these workers and what is their story? Well, here it is.
Meet Digambar Bansal, a 40-year-old man, who migrated and joined Ola to benefit from improved financial prospects promised by these ride-hailing firms. Unemployment and past abysmal working conditions with meager monthly incomes of INR 15000 (USD 200) contributed to his motivation, like many others, to join the platform. In the early stages of these unicorns, he claimed to have earned INR 90,000 (USD 1,200) a month in an interview with Mumbai Mirror. This led him to purchase vehicles and auxiliaries through third-party credits in hopes of an uplifted livelihood. This illusion, however, was short-lasting.
In recent years, his earnings have declined to INR 20,000-30,000 (USD 270-400) per month. With an EMI (equated monthly installment) of INR 10,000 (USD 135) and fuel worth Rs 500 (USD 6.75), along with car maintenance, Bansal faced difficulties in making ends meet back home. "Half of my income goes towards paying my EMI, and with what remains, I am torn between either providing for my family or spending on the car's maintenance. We drivers are in a terrible state financially'' claimed another driver, Thorat, aged 36, in the same interview with Mumbai Mirror.
From dreams to debts
These stories of drivers like Bansal and Thorat are not exceptional but represent the experiences of numerous drivers engaged with these platforms. The entry of ride-hailing firms accelerated the growth of the gig economy – a labour market characterized by freelance work through contracts or platforms. These firms hired workers like Bansal in enormous numbers by creating a pseudo formal sector based on volatile incentives and incomes. However, over the years, increased fuel costs, decreased rates per kilometre, and withdrawal of incentives have contributed to drivers' financial attenuation. Yet, despite these setbacks, drivers have continued to work for the platform as they find themselves with principal repayments and increasing interests to pay for investments incurred on these false hopes given. Unfortunately, the financial distress does not end here.
Drivers like Bansal are gig workers termed as "partners" of the firms who utilize the platform to connect with customers and provide services. Hence, they are not considered company employees and are devoid of social security provisions like health care. Although firms have claimed to provide insurances, the on-ground reality speaks a different story. 95.3% of respondents stated to have no form of insurance in a survey carried out in November 2019. It also noted that if drivers do have insurance, many were unaware of its possession or how to claim it. Furthermore, like Bansal, many drivers are married, thus bearing the responsibility of their families. After accounting for costs and basic needs, these drivers are left with little to invest in health and education – a dimension of their life to which they solely contribute. At a time when these drivers were already struggling to make ends meet, their financial despair was intensified with the sudden enforcement of the national lockdown in March 2020 as COVID-19 struck India.
The economy came to a standstill, and demand for cabs dwindled. The Indian Federation of App-based Transport Workers (IFAT) and the International Transport Workers' Federation (ITF) carried out four surveys from March-June 2020, which recorded that the drivers' average weekly income commencing April 15 was less than INR 2500(USD 33). The Reserve Bank of India extended the moratorium till August 31st 2020 but did not waive off the interest. Similarly, funds set up by the ride-hailing firms were limited to the cost of disease or necessary supplies and did not include finances like EMIs. This piling interest compelled drivers to work in a low-demand economy, exposing themselves to the virus, despite being devoid of health insurance and sick leaves. Many drivers feared getting infected, not because of deteriorating health concerns but because it meant missing out on weekly earnings to cover the debts. The first wave of COVID-19 pandemic exposed that being sick is also a luxury not everyone can afford.
Gendered hope through legal reform
Amidst this upheaval came a ray of hope for these drivers as the government announced the Social Security Code 2020, the first law to recognize gig and platform workers formally. Under the code, the government aims to set up a social security fund for these workers. The aggregators have also been instructed to contribute 1-2% of their annual turnover towards the fund. Moreover, the National Social Security Board will act for the gig workers and platform workers under this code instead of only unorganized workers in the 2019 bill.
Although this initialization of labour laws depicts recognition of a long-ignored community, the sector's small community of women who have been further pushed back during the Pandemic are yet to be recognized.
The affliction runs deeper as one takes a bird-eye view and notices the differentiated gender access to these gig platforms. The primary reason behind the sector's low engagement of women is the initial investment in vehicles. A report by Aapti institute ­ an institute that generates policy-relevant accessible knowledge to support the creation of a fair and equitable society ­ noted that women often relied on family savings for initial funding as opposed to third-party loans due to inaccessibility to lenders. Obstacles that further hinder their investment in vehicles are unplanned pregnancies and care of families, which halt the earnings required to cover interests and EMIs. Moreover, mechanisms for safety and protection against harassment when going to unknown locations to pick up customers have not been ensured.
It is vital that these labour laws provide resources to help women get back on their feet as they can no longer rely on family savings, which have been exhausted during the pandemic. Measures to boost their entry, like maternity leave and extension of the Sexual Harassment of Women at Workplace Act 2013, should be carried out as security at workplace is a right of every individual. Lastly, channels to ensure women can use the social security funds at their discretion need to be implemented.
For the larger community of gig workers, some aspects of the code require further work. A clearer distinction between gig and platform workers is required as presently workers engaged in these platforms can be categorized as both. Moreover, to obtain the benefits, the central government requires workers' digital registration and regular update of details –  a digital know-how many workers do not possess. It has also bifurcated social security measures for the centre and state, making the implementation difficult for the workers to understand. These drawbacks are impediments that need to be tackled to complement the government's mission to formalize the platform economy and make the new labour laws indispensable towards ensuring workers' social security.
From consumers to contributors
One can now say that the gig economy is evolving. However, these labour law initiatives are being financed by the government and companies through a fixed annual contribution. Consumers, the demand driving force of the economy­, have long ridden on the competition-fuelled low-cost ride-hailing firm services. To sustain upliftment, a partial cost shift to consumers is required. However, they are not moral actors who will arbitrarily accept appreciated prices. Hence, necessitating incorporation of novel means by stakeholders mentioned to persuade consumers in order to annually increase the monetary social security contribution and witness a long-term change is a must.
In general, consumers tend to humanize frontline employees and feel compassionate towards them. Hence, we suggest that ride-hailing firms should add a personal touch to their app by providing more than basic driver details such as a short introduction and family background, hence humanizing them more to facilitate a better connection ­ a priming effect to persuade consumers to contribute. Contribute for what? For example, Zomato under its Feed India initiative automatically rounds off the bill with the balance amount going to its Feed India fund – an optional tip that consumers have the autonomy to remove. However, this mechanism provides a nudge to consumers to contribute rather than simply asking them if they wish to tip or not. These ride-hailing firms can incorporate a similar structure with proceeds going to workers' social security. This is the first step towards monetary consumer contribution, an optional one – since no company in this era of market capitalization would risk permanently increasing cost and losing market share. However, in the long run, upliftment can thrive only when partial permanent cost is shifted towards consumers, requiring other stakeholders to help burst consumers' bubble of the cab-aggregator economy.
What role stakeholders have to burst this bubble?
Research suggests that consumers' positive attitude towards gig labour can be due to make-believe worker-consumer interaction imperative to maintain favourable ratings, thus obscuring consumers' view of workers' experience. This holds importance as a consumer's perception of working conditions affects their intention to both, use and recommend a service. Moreover, research notes that ethical labour practices often can command a greater monetary consideration from consumers in markets. Hence, we call for organizations and trade unions to voice stories of these workers to create consumer awareness and elicit an empathetic consumer response. Also, to support companies to devise ways of charging premium by promoting investment in labour practices as the reason behind the price appreciation. Further, to help them recognise socially conscious groups of their customer segment. A study suggests that women and educated people are particularly socially conscious; hence these companies could benefit from such segments suggestively through means of optional higher surge from corporate cabs and cab-for-women initiatives. Lastly, for the government to ensure proceeds from implementation of phased partial dispersal of burden on consumers go towards upliftment of workers only.
It is time to employ a sustainable long-term solution to uplift the lives of workers like Thorat and Bansal. On this road ahead, ethical consumerism would be the turning point to help them overcome the hurdles of this pseudo-formal economy and go the next mile!
—
This blog was originally published by FemLab.co. FemLab.co is a seed-funded initiative by the International Development Research Center (IDRC), Canada, as part of their Future of Work series.