What do you count as some of the big victories of the labor movement in the past few years in the context of platformization?
App-based couriers and food delivery workers have made significant strides in the past few years. If we look at the state of global labor activism, in the Global North, it is invigorated by groups such as the UK-based International Alliance of App-based Transport Workers (IAATW) or the US-based Justice for App Workers. In the Global South, despite skepticism, workers in Indonesia and Thailand have had a series of strikes and even shown international solidarity for their Chinese fellows who were harassed by the state. I am always impressed by the depth of their analyses, which have advanced our understanding by exposing the realities of structural and technological injustice. Most importantly, in the face of capital's attempts to erase workers as a class, these groups are showing that solidarity building across sectors and borders is indispensable. All of these are successes in themselves and deserve recognition. As we celebrate these small victories, it is important to acknowledge the dialectic of exploitation and awakening. In Thailand where I have closely worked with platform workers, tragically, flagrant exploitation and injustice have come as an awakening to many workers in the past few years. Such exploitation (e.g. poor working conditions, regular fatal accidents, and lack of protection) has pushed  workers to a tipping point to form the first food delivery union. It is crucial to recognize those who put their bodies on the line to advance the cause of labor justice.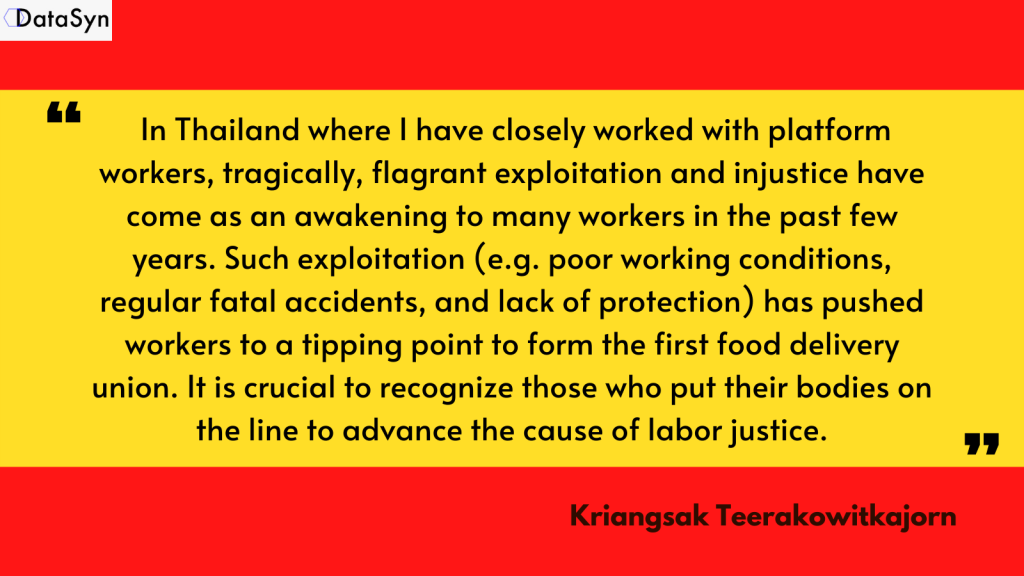 What are the biggest challenges facing workers in the present moment?
There are many challenges ahead of us. First of all, on-demand care workers such as domestic workers and massage therapists still face obstacles to organizing themselves. Based on my work with care workers who are mostly women, they are faced with unique challenges related to their working conditions. These include working in isolation and in private spaces and tending to unpaid care responsibilities. When the general public thinks about app-based or platform workers, they tend to think about the more visible ones which are overwhelmingly male-dominated sectors. Because these app-based courier and food delivery workers are led by men, their activism is largely shaped by a masculine culture. Therefore, another challenge in terms of movement building is an internal one but equally crucial: how to achieve inclusive representation and gender equality within labor organizations. In addition, in the Global South context where the informal economy is dominant and many workers are used to non-standard employment arrangements, only a small proportion of workers are familiar with unionism, and the union movement itself is small and fragmented. Under these conditions, workers have too small a base of societal support to contest the hegemony of the 'partner' euphemism which fortifies the capitalist discourse that we are all entrepreneurs. Moreover, their repertoire of strategies is often small because workers often find themselves reinventing the wheel. For these reasons, it is challenging for workers to advocate for legal changes.
What are key opportunities for strategic intervention for workers in the future?
I believe that the persistent chasm between traditional and emerging labor movements represents an opportunity for strategic intervention. For me, traditional movements led by industrial trade unions have more than a moral obligation to support nascent platform labor movements. It is an existential crisis for the trade union movement as well. The mainstreaming of gig work is an attack on waged labor as we know it and so the stakes are high for all. On a deeper level, points of conflict are likely to deepen around questions of employee versus worker status and effective forms of organizing. Many workers now identify themselves with multiple labor platforms and the 1:1 relationship between employer and employee can no longer be assumed. Accordingly, some workers may not see a trade union, as narrowly defined by national laws, as the only form of effective organizing. In addition, there has long been a division of labor between trade unions organizing formal, waged workers, on the one hand, and labor NGOs organizing informal workers, on the other. The arrival of platform workers complicates this division as new relationships complicate this binary. Yet, organizationally speaking, many trade unions and NGOs tend to be inert and territorial. Although the changes I have outlined call for innovative and out-of-the-box solutions (such as a new way of organizing), Gramsci's statement continues to ring true: "the crisis consists precisely in the fact that the old is dying and the new cannot be born". To move forward, our labor movements have a lot of work to do, internally and externally.
Commemorating International Workers' Day, IT for Change brought together 21 key inputs from the trenches of the labor struggle in the digital economy. These reflections are a part of the series published here.