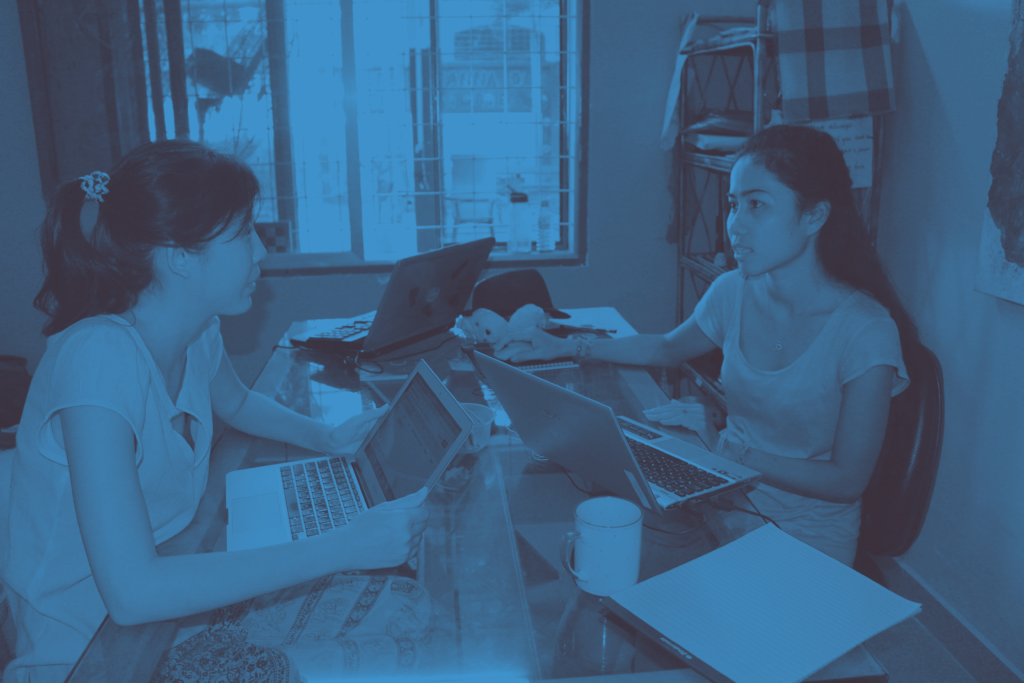 Spotlight on the JustJobs Study in Thailand and Cambodia
The study focuses on the costs, opportunities, and outcomes of generating an income from home for women who engage in gig work on online platforms. In Thailand, some may start an at-home business providing freelance services and get remunerated $21 per hour working on their own time, an income that is much more than the average income ($18 per hour).1  In Cambodia, some may sell baked goods in their networks using social media platforms like Facebook. Facebook has become a popular choice for home based entrepreneurial work for many different kinds of goods and services. For example, Sam's Kitchen PP in Phnom Penh sells homestyle baked bread, pies and cakes to the community using Facebook to advertise their goods.  They also use the forum to advertise their attendance at future farmers markets to reach customers.
How empowering are these forms of home-based online work? This is the overarching question that the JustJobs Network research team investigates, along with two local partners: the Kenan Foundation (Thailand) and Nuppun Research and Consulting (Cambodia).
JJN project introductory video
High Rates of Female Entrepreneurs in Southeast Asia
More women than men run small household businesses, typically from home, which gives them the flexibility of working whenever and wherever they want.2  This way, women can balance generating an income while tending to domestic responsibilities such as taking care of children, cooking, cleaning and managing most household daily duties; such tasks still disproportionately fall to women. This is among the constraints that leave little opportunity for women to find work outside of the home.
Female entrepreneurship is more pervasive in Southeast Asia. Eight out of nine countries with female entrepreneurship rates above the global average (8%) are located in Southeast Asia. Thailand ranks first, with 21% of women owning businesses, and Cambodia seventh with a 13% female entrepreneurship rate (see figure 1).
---
Women in Southeast Asia are attracted to entrepreneurship because of opportunities, rather than necessity.
---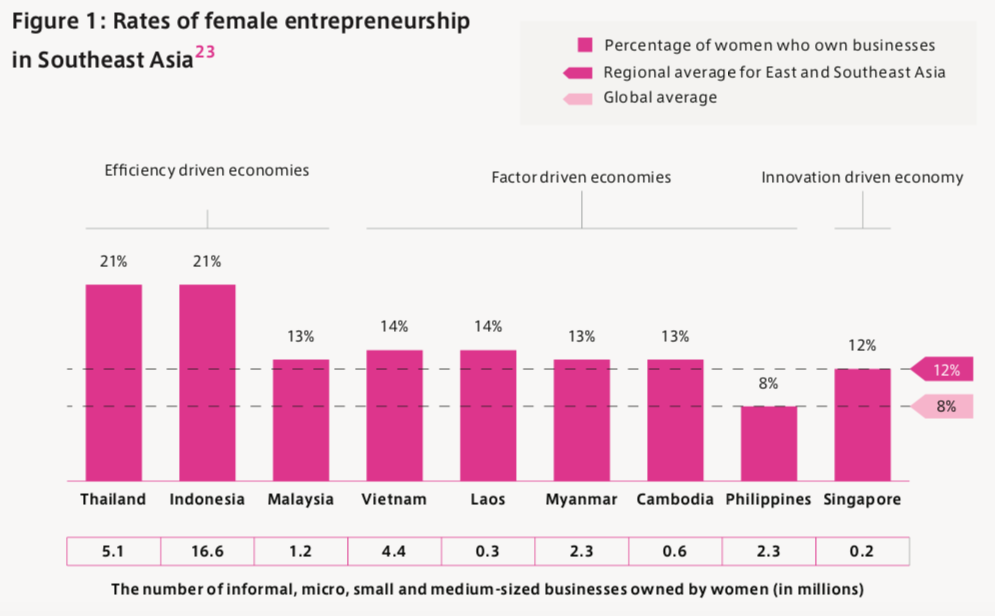 In Cambodia, women own 61 percent majority of all businesses – micro, Small and Medium Enterprises, as well as large businesses, but many of these businesses tend to be micro businesses that are informal.3 Women often prefer to own small businesses that are close to their homes or are in fact "home businesses".
In Thailand, female entrepreneurship is 21 percent —  highest among Southeast Asian countries. Thailand ranks fourteenth in the top markets in the world for women entrepreneurs. For women who lack formal wage employment, they become entrepreneurs by starting mostly low-income microenterprises in agriculture or food processing, beauty and tailoring services, and handicrafts production.
A "Platform Pulse Check" – a set of key words used for a Google search that is replicated in the exact same manner every three months to monitor the evolution of the platform economy in the case countries.  Last month the study identified 18 platforms in Thailand, and 32 platforms in Cambodia in sectors ranging from food delivery and freelance/crowd work to cleaning companies and even home bakeries. Social media platforms are another tool that women use to share their products and services online.
Next Steps
The project is still in the early stages of data collection. By the end of this year, empirical evidence will shed more light on what it is like to work in this emerging ecosystem of home-based digital work. The study will help shape the development of the digital economy to better cater to the needs of women workers.
________________________