JustJobs Network and the Centre for Policy Research, with support from International Development Research Centre (IDRC, Canada), hosted a panel discussion on Women, Work, and the Gig Economy: Will Platformisation Improve Women's Labour Force Participation?. The discussion was held on 24th June 2022, at the India Habitat Centre, New Delhi.
This event was organised as a part of the Women, Work, and the Gig Economy, a collaborative research initiative coordinated by the JustJobs Network and supported by the International Development Research Centre (IDRC, Canada) to study how digital platforms can enhance women's economic empowerment and build gender-inclusive labor markets in the Global South. 
Setting the background for this discussion, Ms. Sabina Dewan, President and Executive Director of JustJobs Network and Senior Visiting Fellow at the Centre for Policy Research, provided an overview of how technological advancements, evolution of platforms, as well as emerging forms of platform work provide challenges and opportunities for women's economic participation in South and South East Asia. "In India, less than one in five women are working or looking for work. Similarly, female labour force participation remains lower than male labour force participation across countries in Asia. When coupled with inequities of access to technology and gender norms, this presents crucial questions on how technology impacts women's work."  
With the emergence of technologies that dramatically restructure labour markets and upend traditional employment models, the platform economy—specifically labour platforms, online marketplaces, and social media—is creating opportunities for women that are remote and flexible. The discussion was moderated by Ms. Mukta Naik, Fellow at the Centre for Policy Research, who opened the conversation acknowledging that "women have been deeply engaged with the platform economy, especially during the pandemic." Addressing how women forge their work identities on platforms, Prof. Usha Raman, Head, Department of Communication, University of Hyderabad, noted, "platforms offer a context and a channel that allows women to reimagine themselves as workers, but the same platforms also constrain these identities and reproduce hierarchies."  
Ms. Chonthita Kraisrikul, Knowledge Management Officer at Just Economy and Labor Institute shed light on the situation in Thailand where, "for women workers who moved from informal work to platform work, this work became a channel to not just generate income, but to also standardize the nature of work and derive dignity."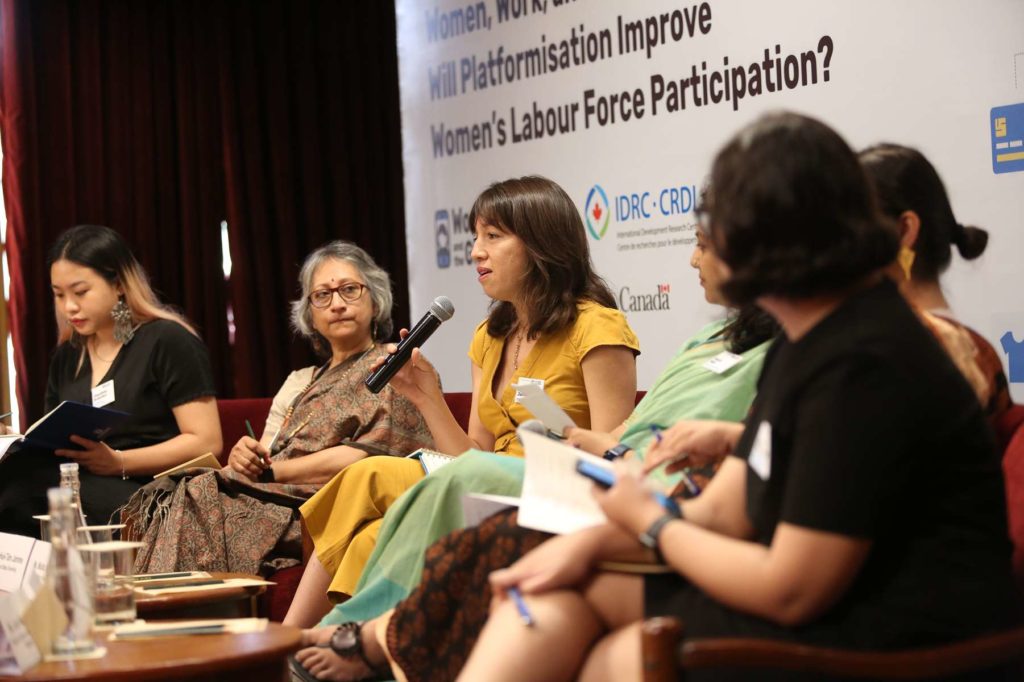 Addressing the notion that platform work provides flexibility for women, Dr. Hue-Tam Jamme, Assistant Professor at the School of Geographical Sciences and Urban Planning, Arizona State University, highlighted that "there is an internalisation of gender gap that plays out strongly within the households. While the women we interviewed did not perceive balancing care work and paid work as an issue, our survey revealed that when added up, the total time spent by women in online work, offline work, and unpaid care work was twice as much as that of men." 
Across countries, the platform economy has long been expected to address gender norms and inequities that prevent women from participating in the labour markets. However, the situation in the Global South is not that straightforward. Speaking on whether technology serves as a level playing field for women, Ms. Lora Kryz Baje, Research Specialist, Philippine Institute for Development Studies, noted that "in the Philippines, online work can potentially bring better income opportunities for women. However, we must be wary of the risks surrounding these types of informal work for women- particularly the lack of social protection and job security, lowballing of income, and limitations to flexibility."  
On policy interventions towards more equitable and long-lasting opportunities for women, Ms. Aditi Surie, Consultant, Indian Institute for Human Settlements, highlighted that "industries need to take a stand on whether women's engagement is a business prerogative or a social cause. If we need to mainstream women's work and economic participation, the issue needs its place in the business models of platforms. Additionally, metrics for measuring a platform's success should also include women's inclusion and engagement."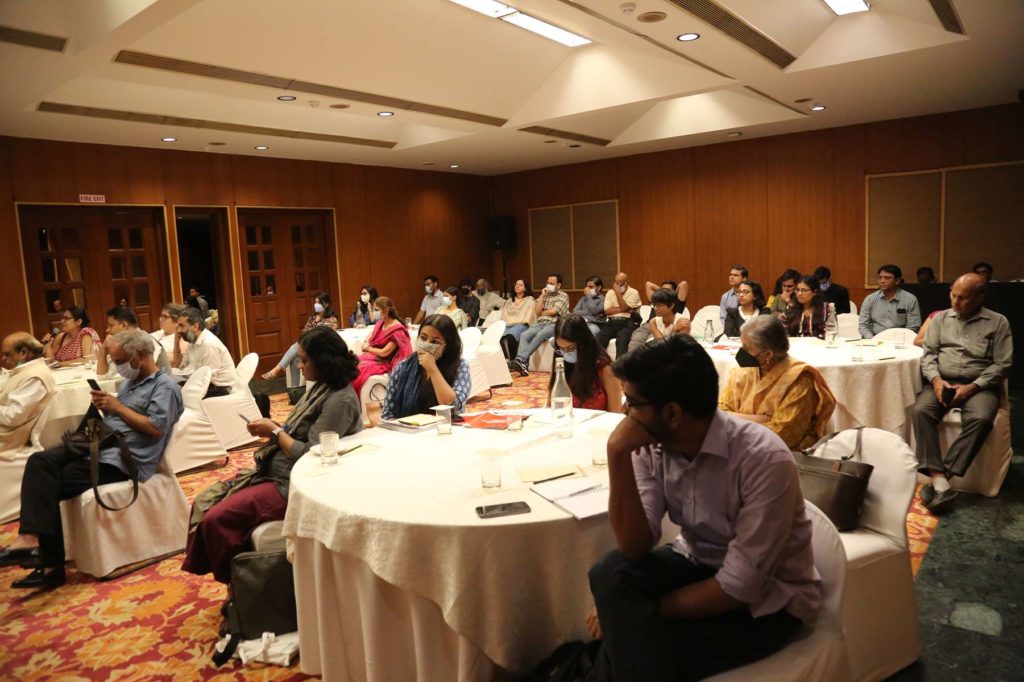 This discussion with panellists from South and South Asia shed light on the role of the platform economy in improving women's participation in the workforce and their empowerment, and policy prerogatives to effectively address structural and systemic barriers that hinder women from leveraging emerging opportunities in the platform economy. The event saw participation from policymakers, academics, print and online media, civil society representatives, platform companies, and students.
Watch the full panel discussion here:
Find more images from the event here.